PEPA Palliative Care for General Practitioners Feb 24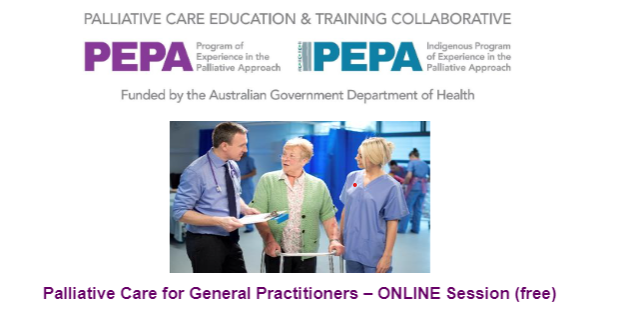 Palliative Care for General Practitioners–ONLINE Session (free)
Join us for an interactive education session, utilising group discussion and case studies to provide a greater understanding of palliative care.
This workshop is for General Practitionersbased in Victoria who care for people with a life-limiting illness.
Practice Nurses are also welcome to attend.
TOPICS:-
Recognising patients who need palliative care
Communicating about end of life issues
Voluntary assisted dying in Victoria
Assessing and managing common symptoms
Advance care planning
FACILITATOR-Dr Rowan Hearn, Clinical Director Palliative Medicine, Calvary Health Care Bethlehem
DATE-Wednesday24thFebruary 2021
TIME-6.00pm –8.00pm
LOCATION-AWebExlinkand guidelines to accesswill be provided priorto the workshop, after registrations via Eventbrite close (approx. 4days prior to the workshop date).
TO REGISTER FOLLOW THIS LINK: https://www.eventbrite.com.au/e/palliative-care-education-for-general-practitioners-online-session-free-tickets-133028007351WORKSHOP PRE-R