Palliative Care information and resources
Victoria's Palliative Care Advice Service
The Palliative Care Advice Service (PCAS) provides Victorians with specialist palliative care information, guidance and support. A Victorian Department of Health initiative hosted by The Royal Melbourne Hospital, the service provides free confidential advice when living with or caring for someone with life-limiting illness, palliative or end of life care needs.
Specialist doctors and nurses are available to assist clinicians, patients, carers and families with:
what to expect and plan for

how to have conversations about palliative care

how to provide practical care to those with a life-limiting illness

recognising deterioration and end of life

developing symptom management plans

converting oral medications to injectable and when to use a syringe driver

finding local support throughout Victoria.
The service is also available to all Victoria-based healthcare providers.
PCAS can be contacted daily 7am‑10pm on 1800 360 000.
---
The Palliative Care Education Directory (PaCE)
Using an App on a smartphone, tablet or desktop, educators and health and aged care providers can access the PaCE resource directory. Have ready access to palliative care education and training resources provided by the Collaborative and other National Palliative Care Projects (NPCPs).
---
Supporting Inclusive End of Life Care Companion Guides
The ELDAC (End of Life Directions for Aged Care) Supporting Inclusive End of Life Care companion guides are designed to assist aged care providers to offer culturally safe and inclusive end of life care by providing information, guidance and links to key resources. The companion guides support key resources developed by the Australian Government Department of Health: Aged Care Diversity Framework, Provider Action Plans and the Specialisation Verification Framework.
The companion guides are not stand-alone resources and should be used in conjunction with these essential documents. These are available for Aboriginal and/or Torres Strait Islander Peoples; Culturally and Linguistically Diverse People; and LGBTQI+ People.
Visit the ELDAC website for more information.
---
FREE Home Care App for care workers
ELDAC have launched a new Home Care App which provides practical tips and support for home care workers to care for their clients' changing needs as they reach the end of life. The app is available to download for free from the Apple App store or Google Play store.
---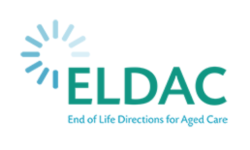 Dementia Toolkit for aged care staff
With more than two thirds of aged care residents having moderate to severe cognitive impairment, how much do your staff know about dementia? ELDAC's new Dementia Toolkit provides information and guidance to support palliative care and advance care planning with information on Clinical Care and Education and Learning to help aged care staff improve their knowledge, skills, and confidence in caring for people living with dementia and their families.
---
Community Resources
Palliative Care Victoria (PCV) Provides comprehensive information about Palliative Care for the community, including dowloadable audio and written materials in 17 languages.
PCV has developed factsheets for CALD communities on How Palliative Care Can Help. These simple fact sheets are available in more than 20 languages and are downloadable and printable.
---
The Centre for Palliative Care provides access to education (including a range of webinars which are available to view FREE on demand), as well as research articles for carers, community and clinicians.
---
Aboriginal and Torres Strait Islander Care Ensuring that Aboriginal and Torres Strait Islander patients feel culturally safe and receive culturally responsive care is a key responsibility of everyone. The resources available from this webiste have been designed by Aboriginal people.
---
The Palliative Care Clinic Box draws on 18-months of nationwide consultation with Aboriginal and Torres Strait Islander families, and health professionals in specialist and generalist palliative care services. It contains a range of hard copy resources for families, health professionals, and clinical services to support families managing a range of symptoms, including safely giving subcutaneous medicines. Appropriate resources can be selected from the Clinic Box to meet the needs of individual families. The Caring@Home Palliative Care Clinic Box can be ordered for FREE from www.caringathomeproject.com.au.