Palliative Care information and resources
Victoria's Palliative Care Advice Service
The Palliative Care Advice Service (PCAS) provides Victorians with specialist palliative care information, guidance and support. A Victorian Department of Health initiative hosted by The Royal Melbourne Hospital, the service provides free confidential advice when living with or caring for someone with life-limiting illness, palliative or end of life care needs.
Specialist doctors and nurses are available to assist clinicians, patients, carers and families with:
what to expect and plan for

how to have conversations about palliative care

how to provide practical care to those with a life-limiting illness

recognising deterioration and end of life

developing symptom management plans

converting oral medications to injectable and when to use a syringe driver

finding local support throughout Victoria.
The service is also available to all Victoria-based healthcare providers.
PCAS can be contacted daily 7am‑10pm on 1800 360 000.
---
Free Palliative Care Knowlege Maps for allied health professionals
ELDAC has produced an Allied Health Toolkit which contains two personal knowledge maps that can help allied health professionals to grow their skills in key areas of palliative care. The first is for for allied health professionals who are new to palliative care and the other for allied health professionals who are experienced in palliative care.
---
SCV Reducing barriers to completion of a medical certificate cause of death
Safer Care Victoria has developed two checklists to help improve processes supporting completion of an MCCD. These checklists are for use by acute health services when discharging a patient and for admission to community palliative care services, to help prepare a patient to die at home.
The checklists are available here: https://www.safercare.vic.gov.au/clinical-guidance/palliative/care-plan-for-the-dying-victoria.
---
Dementia Resources
Dementia is the second leading cause of death in Australia. A suite of updated resources for health professionals and people diagnosed with dementia has been released this week. The package represents a collaboration between Victorian and Tasmanian primary health networks and includes:
Updated HealthPathways, including new best-practice clinical and referral pathways and links to resources for patients, family and carers.

New dementia

information sheet

with local

Dementia Directory

, designed for GPs to help patients, carers and family with support and resources within the NWMPHN and EMPHN region.
More information here
---
Changes to PBS listing of morphone and oxycodone oral solutions
The Department of Health and Aged Care has made changes to the listing of a number of critical palliative care drugs on the PBS. The changes allow pharmacists to dispense volumes smaller than a whole bottle at PBS subsidised prices. These changes mirror those made on 1 August 2022 to the listing of oral solution containing hydromorphone hydrochloride. More information here.
---
Palliative Care projects database
ELDAC have created a searchable database of palliative care projects, research and activities completed across Australia. The ProSeek database contains hundreds of records that provide useful knowledge and resources for making decisions and solving problems in aged care. You can also submit your project, research or activity to ProSeek. Read ELDAC's Cheat Sheet: Submitting a Project to find out more.
---
Palliative Care and Advance Care Planning: Current Practices in Victorian Cancer Services
The Victorian Integrated Cancer Services has published a report with important implications for anyone working in advance care planning, palliative care and end-of-life care. The report makes 18 recommendations to address variations in:
the timing of access to palliative care and advance care planning,

collection and storage of data

promotion of palliative care services

processes

models of care

research and quality improvement activities
---
The Palliative Care Education Directory (PaCE)
Using an App on a smartphone, tablet or desktop educators and health and aged care providers can access the PaCE resource directory. Have ready access to palliative care education and training resources provided by the Collaborative and other National Palliative Care Projects (NPCPs).
---
Supporting Inclusive End of Life Care Companion Guides
The ELDAC (End of Life Directions for Aged Care) Supporting Inclusive End of Life Care companion guides are designed to assist aged care providers to offer culturally safe and inclusive end of life care. The companion guides support key resources developed by the Australian Government Department of Health: Aged Care Diversity Framework, Provider Action Plans and the Specialisation Verification Framework. The companion guides are not stand-alone resources and should be used in conjunction with these essential documents. These are available for Aboriginal and/or Torres Strait Islander Peoples; Culturally and Linguistically Diverse People; and LGBTQI+ People. Visit the ELDAC website for more information.
---
CHAP (Comprehensive Health Assessment Program) - Improving the health of adults with intellectual disability
Apply for a free licence to use the CHAP tool in Australia. CHAP is a tool designed to prompt a comprehensive health assessment for adults with intellectual disability. This may help doctors make better diagnoses, provide appropriate treatment and ultimately ensure overall better health. The CHAP tool is a two-part questionnaire requiring collaboration between the person with the intellectual disability, their supporter and their GP. Learn more here.
---
FREE Home Care App for care workers
ELDAC have launched a new Home Care App which provides practical tips and support for home care workers to care for their clients' changing needs as they reach the end of life. The app is available to download for free from the Apple App store or Google Play store.
---
End of life care for trans and gender diverse people
Hospice UK have published the I just want to be me report that uses real-world experience to understand and inform how trans and gender diverse people access and understand end of life care. Highlighting the needs of these communities it sets out recommendations for what hospices and palliative care professionals can do to make end of life care more equal and accessible for everyone.
---
Facing end of life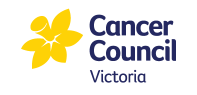 Cancer Counbcil Victoira has designed the Facing End of Life booklet i to support people dying with cancer, as well as their families, friends and people caring for them.
The new edition includes updated information about laws around Voluntary Assisted Dying (VAD, previously known as 'euthanasia'), organ and tissue donation, and understanding grief. There are also new graphics about how to help people in their final stages of life and ways of remembering them.
Community Resources
Palliative Care Victoria (PCV) Provides comprehensive information about Palliative Care for the community, including dowloadable audio and written materials in 17 languages. PCV has developed downloadable and printable simple factsheets for CALD communities on How Palliative Care Can Help in more than 20 languages.
---
The Centre for Palliative Care provides access to education including a range of webinars which are available to view FREE on demand, as well as research articles for carers, community and clinicians.
---
Aboriginal and Torres Strait Islander Care Ensuring that Aboriginal and Torres Strait Islander patients feel culturally safe and receive culturally responsive care is a key responsibility of everyone. The resources available from this webiste have been designed by Aboriginal people.
---
The Palliative Care Clinic Box Contains a range of hard copy resources for families, health professionals and clinical services to support families managing a range of symptoms, including safely giving subcutaneous medicines. Appropriate resources can be selected from the Clinic Box to meet the needs of individual families. The Caring@Home Palliative Care Clinic Box can be ordered for FREE.
---
CareSearch Evidence Centre Find, learn about and work with palliative care evidence. An authoritative, practical and foundational resource to support best practice and improving care.
---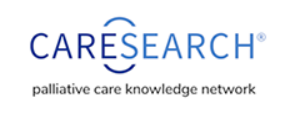 Acute Care Resource Pack
To support health professionals who work in hospitals and care for patients who are approaching the end of their life, CareSearch has developed the Acute Care Resource Pack. It contains access to tools, guides and information factsheets.
Who's that palliative care mob?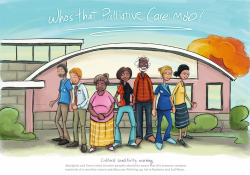 The 'Who's that palliative care mob?' animated video and booklet seeks to raise awareness about palliative care within Aboriginal and Torres Strait Islander communities. It features one family's story and shares information on services and support available for those on their returning to Spirit journey.
Inspired by the real life experience of the author, Jonathan Dodson/Jauncey, this down to earth story shines a light on how important and empowering end of life conversations can be. Empowering not just for the person living with the life limiting illness but also for their family and loved ones.
Death Literacy Index - The Groundswell Project

Death Literacy is the knowledge and practical skills that allow someone to make active choices around end of life options.
How do we best learn about death and dying?
How do we feel about talking with friends and family?

These are some of the questions to ask when exploring how ready and able we are to navigate the end of life phase for ourselves and others.
This survey is designed to be completed in a group (such as a residential care team) and takes about 10 minutes to complete. It then provides a score to help your organisation discuss, plan and take action in regard to people's knowledge and confidence around discussing death. Learn more about the Groundswell Project.
---

Flying Doctor Memory Lane program
Memory Lane is a free service that assists people in palliative care to visit a place in Victoria of significance to them. The transport is via the Royal Flying Doctor Service's 2 purpose built road vehicles and experienced RFDS Patient Transport Officers volunteer their time for the journeys.
Flying Doctor Memory Lane journeys are available for clients who meet the following eligibility criteria:
Aged 18 years or older.

Have a terminal diagnosis and are currently receiving palliative or end-of-life care (as confirmed by GP or treating specialist).

Require specialised medical transport to revisit their place of personal significance.

If clients have complex health needs beyond the abilities of our volunteers, we ask that a qualified health practitioner accompany them on the journey.

Clients must have the approval of their lead clinician prior to undertaking the journey.
Visit the RFDS website for more information and to make a booking.

AIHW Report: Dementia Summary 2022
Dementia is a significant and growing health and aged care issue in Australia. It has a substantial impact on the health and quality of life of people with the condition as well as for their family and friends. This report provides a comprehensive picture of dementia in Australia, including the latest statistics on dementia prevalence, burden of disease, deaths, expenditure and the use of health and aged care services among people with dementia.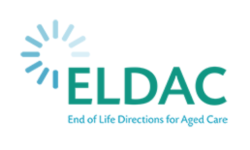 Dementia Toolkit for aged care staff
More than two thirds of aged care residents havie moderate to severe cognitive impairment. ELDAC's Dementia Toolkit provides information and guidance to support palliative care and advance care planning with information on Clinical Care and Education and Learning to help aged care staff improve their knowledge, skills and confidence in caring for people living with dementia and their families.
---
The Goals-of-Care Conversation: A Best-Practice, Step-By-Step Approach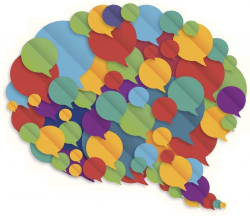 Eight key components of a goals-of-care conversation with examples of questions and empathic responses or prompts clinicians can use to guide the goals-of-care discussion.
Engaging patients in meaningful goals-of-care discussions is critical to providing patient-centered, individualized care. High quality care can only be achieved when a patient's care is aligned with their goals, preferences, and values.
Setting up for at home palliative care

To assist people to prepare for palliative care in their own home CareSearch have added a new section to their website. It lists practical things to consider, specialised equipment that may be needed or changes in the home and links to useful resources. See the CareSearch website for more information.
---